This is innovation LED Flexible Strip for 2110 SMD assembled LED based on 2216SMD LED strip, which has better working ability and stable quality in end user and installation. The 2110SMD LED strip is able to be bent for many times and won't snap easily. The small body 2110SMD LED gives perfect lighting for aluminum LED linear lighting. Such as Easinghome 7x17mm U type LED alum profile.as small body 2.1x1.0mm super tiny LED, 2110SMD LED could be placed ensely, thus having concentrated lighting effect and higher power. Easinghome 700LED per meter 2110SMD is already dots-free for most of regular LED aluminum profile.
2110SMD small body enables for 60LED/120LED/180LED/240LED/280LED/300LED/350LED/700LED max per meter. Color is available from 1800K – 10000k. each C.T has one Bin code only from Refond LED factory. CRI 90+ could give life more natural to real sun day light, give color more beautiful and give true life to us. Easinghome LED is able to offer test report for each of your production and give good recomemdation on easinghome led aluminum profile and silicon neon flex, such as easinghome 4x10mm silicon flex works perfectly with 2110 180LED strip. Dots free and super slim lighting.
2110SMD LED flexible strip could be great choice to replace 2216SMD led strip, or 2835SMD, 3528SMD ect. Compared in some other reason.

ABOUT EASINGHOME LED 2110SMD INTRODUCTION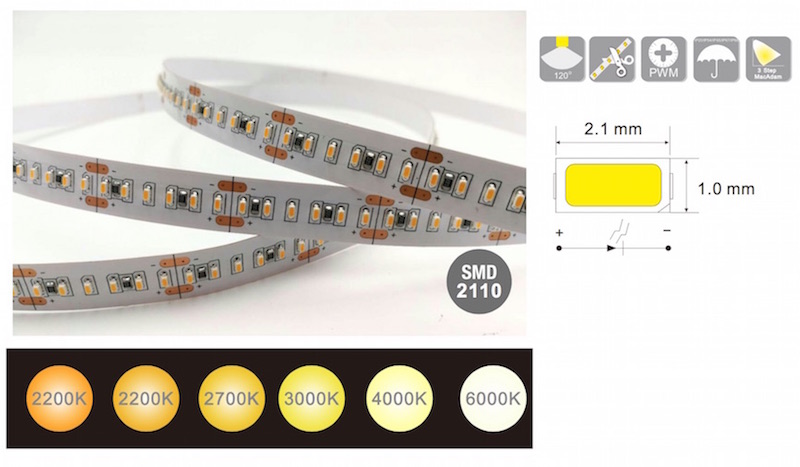 PCB Drawing of EASINGHOME 2110SMD 700LED/m strip

Details:
SMD
P/N
LED QTY (PCS/M)
Mini Cut
Manufacturer
PCB Size(mm)
Power(W/M)
LED Brand
Color
2110
FLW2110-24308-CCT
308LEDs 1-row
14LED @ 4.55CM
EASING HOME LED
8mm PCB
10.56W
Refond
CCT
2110
FLW2110-24060-WW/WH
60LEDs 1-row
6LED @ 10CM
EASING HOME LED
8 mm PCB
2.4W
Refond
1800K 2300K 2700K 3000K 4000K 5000K 6500K
10000K
2110
FLW2110-24120-WW/WH
120LEDs 1-row
6LED @ 5CM
EASING HOME LED
8 mm PCB
4.8W
Refond
2110
FLW2110-24180B-WW/WH
180LEDs 1-row
6LED @ 3.34CM
EASING HOME LED
6 mm PCB
8W
Refond
2110
FLW2110-24240-WW/WH
240LEDs 1-row
6LED @ 2.5CM
EASING HOME LED
10mm PCB
14W
Refond
2110
FLW2110-24280B-WW/WH
280LEDs 1-row
7LED @2.5CM
EASING HOME LED
4 mm PCB
8W
Refond
2110
FLW2110-24280-WW/WH
280LEDs 1-row
7LED @2.5CM
EASING HOME LED
10mm PCB
14W
Refond
2110
FLW2110-24300-WW/WH
300LEDs 1-row
6LED @ 2.0CM
EASING HOME LED
10mm PCB
18W
Refond
2110
FLW2110-24350-WW/WH
350LEDs 1-row
7LED @2.0CM
EASING HOME LED
10mm PCB
18W
Refond
2110
FLW2110-24700-WW/WH
700LEDs 1-row
7LED @1.0CM
EASING HOME LED
10mm PCB
19.2W
Refond

Puting 2110SMD 700LED strip into Easinghome LED Aluminum profile ALP002