Dim to Warm CCT 1800K-3000K LED strip
Time:2018-01-06
Views:3368


This new developed dim-to-warm LED technology with an intelligent circuit, we LEDHOME call it DTW (D2W) LED strip that automatically changes Kelvin temp from warm white 3000K to very warm white 1800K, simply by dimming the LED light through dimmable LED power supplier or any single color dimmer, such as silicon controlled, 0/1-10V, PWM constant voltage dimmable driver. Also compatible with DC24V PWM dimmer.





Using any low voltage dimmable drivers and dimmer, it smoothly warm or cool the color temperature of strip light to suit the mood. LEDHOME special DTW LED strip working does not require any extra accessories like controllers or receivers,but by dim power supplier. This saves costs and means it's very easy to use with no batteries or controllers. Simple but easy to visual comfort and warm heart from 100% brightness to 3%brightness. Its said this is an interesting factoy with many new LED strips for your free deign on LED linear light.pls write back at contact@easinghome.com for more details and samples.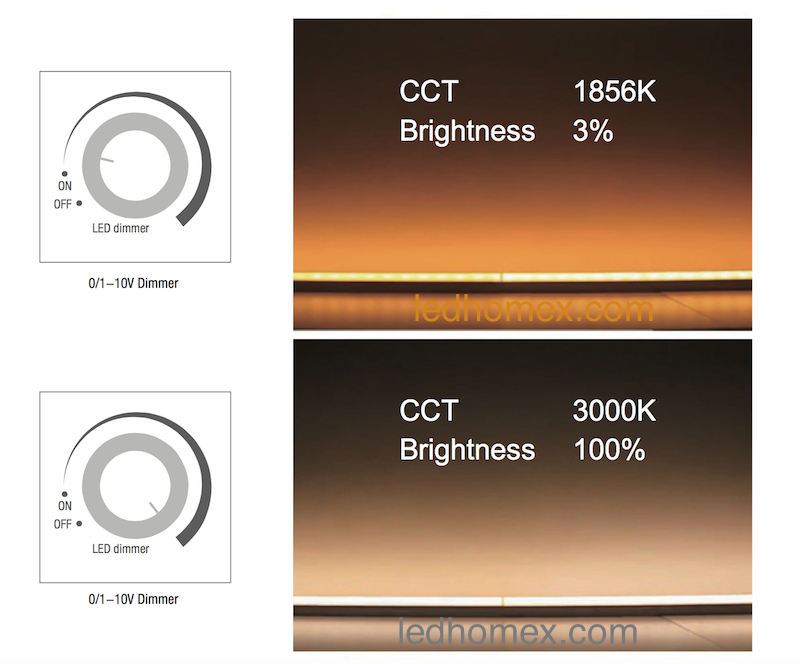 At present, LEDhome factory has 1800K+3000K and 2000K+3000K optional to your D2W LED strip










Now let's watch the short video, how does the dim to warm led strips work?