ErP LED strip
Time:2021-07-09
Views:2107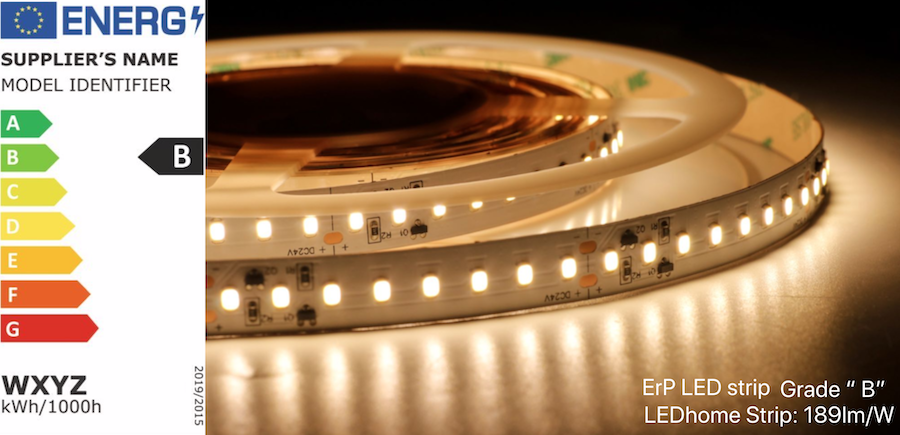 ErP
is starting from September 1st, 2021.Have you prepared for that? Most led strip on market only meets Grade "G" or "F".
LEDHOME have listed our high efficacy LED strip which could arrive
180-190lm/W, Erp Grade"B".
so what's your plan for the ErP led strip?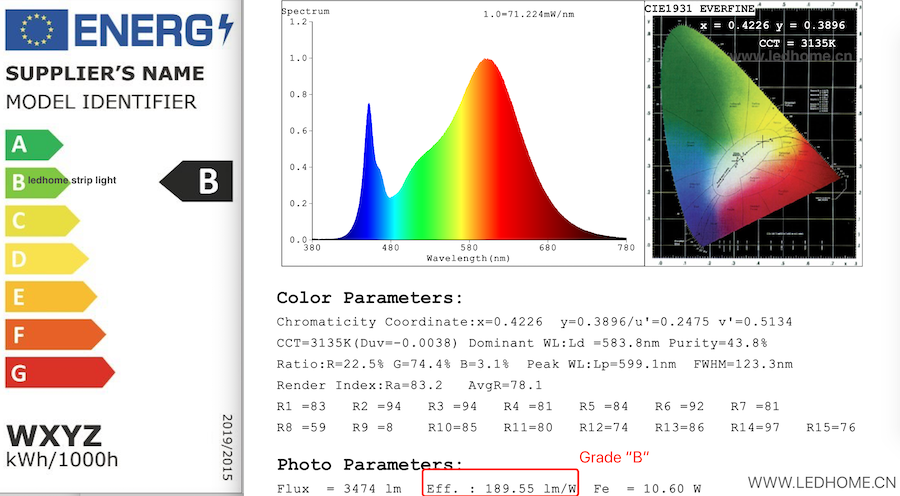 Here are below options from our regular product list which could do fast lead time in 3-7days, will you need samples to test for your ErP led strip now?
The earlier you get it, the more benefit you will win the market.
Besides below option, we also accept customized, so pls feel free to write us back for your market request. we can work together for the new policy for Erp on lighting. We are now working on the
210lm/W ErP "A" led strip
, do you have interest?
Part No.
LED
Qty/m
PCB
width
Power
per meter
CCT
Voltage (V)
LM/W
(CRI >80)
Lumen
per meter
ErP
LM/W
(CRI >90)
Lumen per meter
ErP

FL2835-CV24064-9.6W-W27-A

64

10mm

9.6W

2700K

DC 24V

185lm/w

1776

B

135lm/w

1296

D

FL2835-CV24080-12W-W27-A

80

10mm

12W

2700K

DC 24V

185lm/w

2220

B

135lm/w

1620

D

FL2835-CV24128-18W-W27-A

128

10mm

18W

2700K

DC 24V

185lm/w

3330

B

135lm/w

2430

D

FL2835-CV24160-21W-W27-A

160

10mm

21W

2700K

DC 24V

185lm/w

3885

B

135lm/w

2835

D

FL2835-CV24064-9.6W-W30-A

64

10mm

9.6W

3000K

DC 24V

189lm/w

1814.4

B

138lm/w

1324.8

D

FL2835-CV24080-12W-W30-A

80

10mm

12W

3000K

DC 24V

189lm/w

2268

B

138lm/w

1656

D

FL2835-CV24128-18W-W30-A

128

10mm

18W

3000K

DC 24V

189lm/w

3402

B

138lm/w

2484

D

FL2835-CV24160-21W-W30-A

160

10mm

21W

3000K

DC 24V

189lm/w

3969

B

138lm/w

2898

D

FL2835-CV24064-9.6W-W40-A

64

10mm

9.6W

4000K

DC 24V

189lm/w

1814.4

B

160lm/W

1536

C

FL2835-CV24080-12W-W40-A

80

10mm

12W

4000K

DC 24V

189lm/w

2268

B

160lm/W

1920

C

FL2835-CV24128-18W-W40-A

128

10mm

18W

4000K

DC 24V

189lm/w

3402

B

160lm/W

2880

C

FL2835-CV24160-21W-W40-A

160

10mm

21W

4000K

DC 24V

189lm/w

3969

B

160lm/W

3360

C

FL2835-CV24064-9.6W-W65-A

64

10mm

9.6W

6500K

DC 24V

192lm/w

1843.2

B

160lm/W

1536

C

FL2835-CV24080-12W-W65-A

80

10mm

12W

6500K

DC 24V

192lm/w

2304

B

160lm/W

1920

C

FL2835-CV24128-18W-W65-A

128

10mm

18W

6500K

DC 24V

192lm/w

3456

B

160lm/W

2880

C

FL2835-CV24160-21W-W65-A

160

10mm

21W

6500K

DC 24V

192lm/w

4032

B

160lm/W

3360

C

 

 

 

 

 

 

 

 

 

 

 

 

FL2835-CC24064-9.6W-W27-A

64

10mm

9.6W

2700K

CC 24V

185lm/w

1776

B

135lm/w

1296

D

FL2835-CC24080-12W-W27-A

80

10mm

12W

2700K

CC 24V

185lm/w

2220

B

135lm/w

1620

D

FL2835-CC24128-18W-W27-A

128

12mm

18W

2700K

CC 24V

185lm/w

3330

B

135lm/w

2430

D

FL2835-CC24160-21W-W27-A

160

12mm

21W

2700K

CC 24V

185lm/w

3885

B

135lm/w

2835

D

FL2835-CC24064-9.6W-W30-A

64

10mm

9.6W

3000K

CC 24V

189lm/w

1814.4

B

138lm/w

1324.8

D

FL2835-CC24080-12W-W30-A

80

10mm

12W

3000K

CC 24V

189lm/w

2268

B

138lm/w

1656

D

FL2835-CC24128-18W-W30-A

128

12mm

18W

3000K

CC 24V

189lm/w

3402

B

138lm/w

2484

D

FL2835-CC24160-21W-W30-A

160

12mm

21W

3000K

CC 24V

189lm/w

3969

B

138lm/w

2898

D

FL2835-CC24064-9.6W-W40-A

64

10mm

9.6W

4000K

CC 24V

189lm/w

1814.4

B

160lm/W

1536

C

FL2835-CC24080-12W-W40-A

80

10mm

12W

4000K

CC 24V

189lm/w

2268

B

160lm/W

1920

C

FL2835-CC24128-18W-W40-A

128

12mm

18W

4000K

CC 24V

189lm/w

3402

B

160lm/W

2880

C

FL2835-CC24160-21W-W40-A

160

12mm

21W

4000K

CC 24V

189lm/w

3969

B

160lm/W

3360

C

FL2835-CC24064-9.6W-W65-A

64

10mm

9.6W

6500K

CC 24V

192lm/w

1843.2

B

160lm/W

1536

C

FL2835-CC24080-12W-W65-A

80

10mm

12W

6500K

CC 24V

192lm/w

2304

B

160lm/W

1920

C

FL2835-CC24128-18W-W65-A

128

12mm

18W

6500K

CC 24V

192lm/w

3456

B

160lm/W

2880

C

FL2835-CC24160-21W-W65-A

160

12mm

21W

6500K

CC 24V

192lm/w

4032

B

160lm/W

3360

C